Police Explorers
What exactly does the Volusia Sheriff's Office Explorers program do?
We build self-esteem and leadership skills in young men and women while also providing an opportunity to serve the community and explore law enforcement as a career.
The Explorers meet once a week and visitors are always welcome.
Qualifications to become member of Explorer POST No. 116:
Must have good moral character
Must be 14–21 years old
Must be enrolled in high school or possess a high school diploma or GED
Must maintain a 2.0 grade point average in school
Must not have a criminal record
Must attend three (3) consecutive meetings as a visitor prior to becoming a member
JOIN US:
Meetings are held from 6 to 8 p.m. every other Wednesday evening from September to May at the Volusia Family Resource Center, 3747 West International Speedway Blvd., Daytona Beach.
For more information, contact:
Deputy Luchay Mendoza
vcsoexplorers@volusiasheriff.gov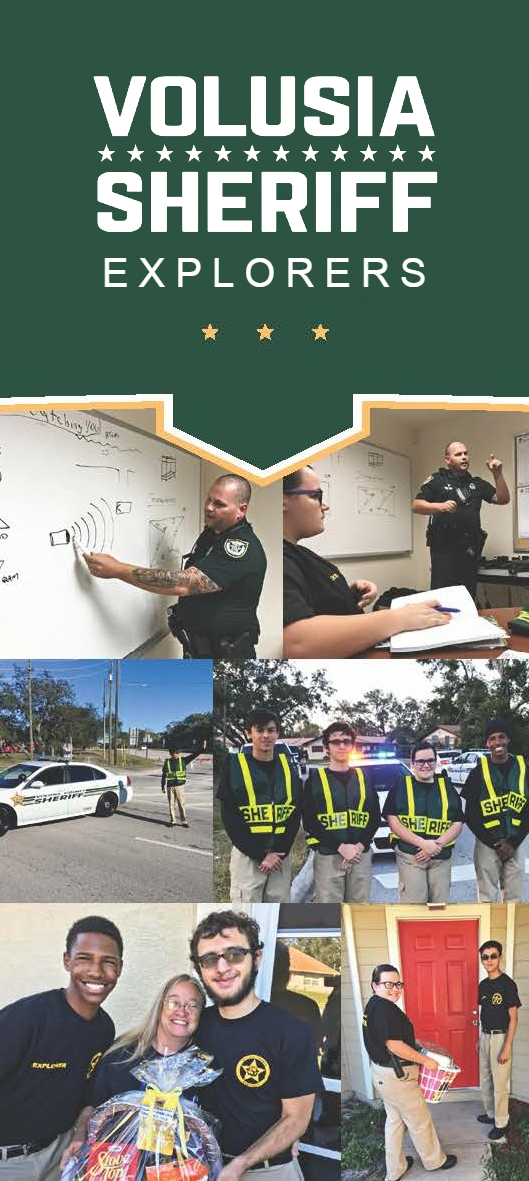 About the VSO Explorers
The youth in our community are constantly faced with important decisions that will shape their future. What career path will they will choose? How will they become contributing members of society? How will they spend their free time, and what kind of friends and peer groups will they develop? These questions can send them searching in a variety of directions. The VSO Explorers Program is a way to guide teens toward making good choices while simultaneously experiencing first-hand how a law enforcement agency functions. This can help instill a newfound respect and appreciation for our law enforcement and first responders.
Our Explorer Program is affiliated with the Boy Scouts of America. The program allows community-minded young men and women in Volusia County to build their self-esteem and give back to their communities, instilling a sense of pride and responsibility in each and every teen. The Explorers programs set teens on the right track to becoming law-abiding citizens concerned with making positive changes in their own communities. Many teens who participate in the program choose a career in criminal justice or public service. The skills learned in the Explorers program can contribute to success later in life regardless of career path or circumstance.
The program has five areas of emphasis:
Career Opportunities
Develop contacts that may broaden employment options.
Life Skills
Develop positive social interaction and physical and mental fitness.
Citizenship
Encourage the skill and desire to help others through community service.
Character Education
Learn to make ethical choices and decisions.
Leadership Experience
Acquire leadership skills to fulfill one's responsibilities in society.