Volusia Sheriff's Office | Air One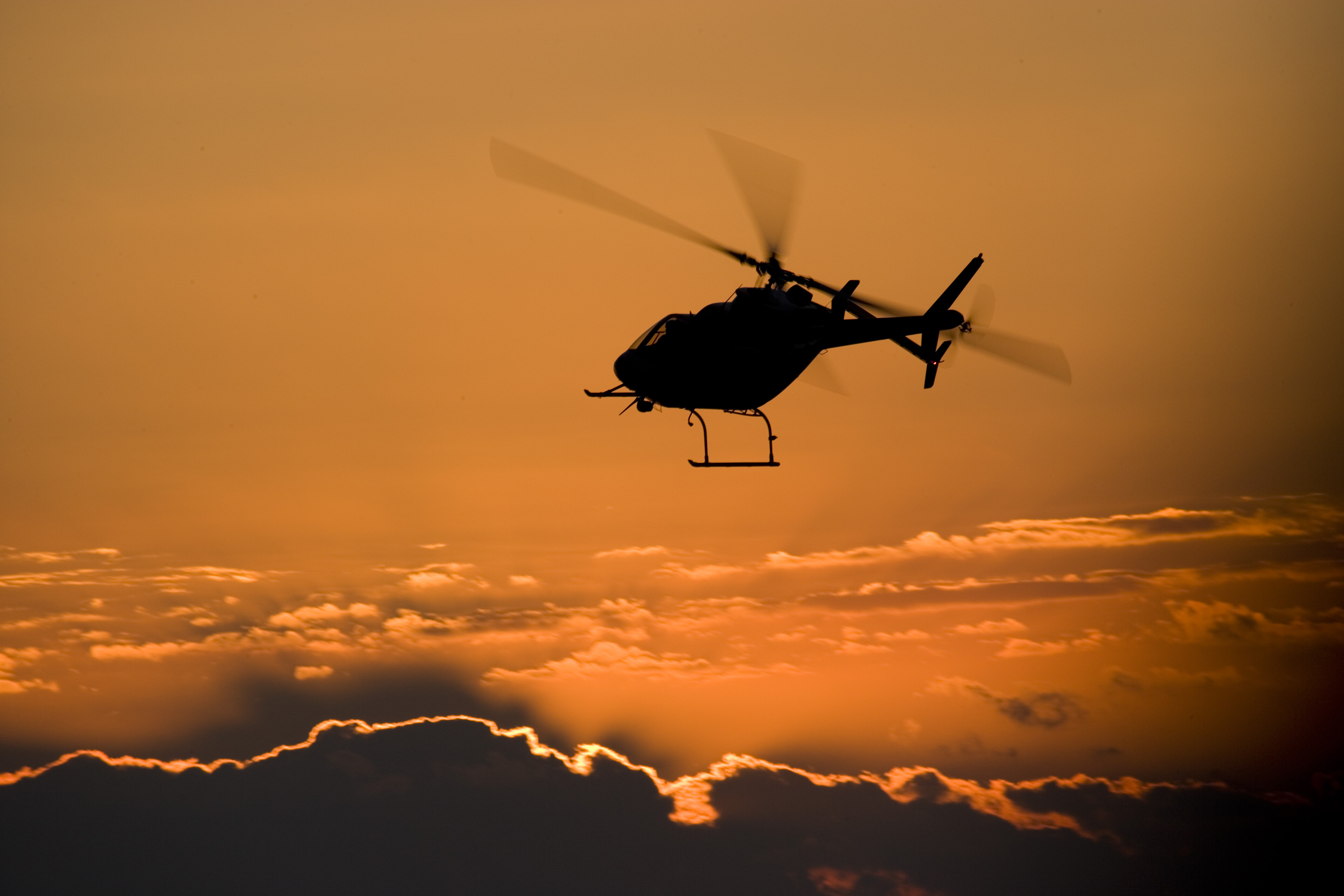 The Volusia Sheriff's Office Aviation Unit, better known by the radio call sign "Air One," operates three Bell 407 multi-role helicopters out of the Special Operations Section, based out of a hangar at the DeLand Municipal Airport.
Air One operates 24 hours a day, 7 days a week, 365 days a year in support of not only the Sheriff's Office, but all law enforcement, fire, and emergency medical service organizations in Volusia County, as well as mutual aid in support of organizations inside and outside the county, such as the U.S. Coast Guard and neighboring counties on request. The Bell 407 is fast – with a top speed of 140 knots (160 mph – powerful and extremely maneuverable, making it ideally suited to flying the diverse missions that Air One supports.
Air One helicopters fly not only law enforcement missions, but also medical evacuation (medevac), search and rescue (SAR), fire suppression and monitoring, and special missions such as SWAT team fast rope insertions. In addition to being the eye in the sky to locate criminals, Air One aircrews are also frequently employed to locate missing children, runaways, suicidal persons and adults suffering from dementia and Alzheimer's disease.
Air One helicopters are crewed by a two-person crew consisting of a Pilot and a Tactical Flight Officer (TFO)/Flight Paramedic. Air One pilots are highly skilled and experienced and fly day or night, employing night vision goggles (NVGs) to see in the dark. Air One pilots have diverse prior law enforcement, military and/or civilian flight training, and on average have well over 6,000 hours of flight time.
Air One TFO/Flight Paramedics began as EMS Paramedics on ground ambulances before being selected for Air One and completing their law enforcement and Flight Paramedic training. For most missions, the TFO/Flight Paramedic sits next to the pilot in the cockpit, operating the tactical police radios, the daytime camera, recording and navigation equipment and the Forward Looking Infared (FLIR) camera that provides and records high-quality visual images at night. During medevac missions, the TFO moves into the back cabin of the aircraft to perform flight paramedic medical duties to care for the patient.
Air One's three Bell 407s are meticulously maintained and supported by one full-time, dedicated Director of Maintenance. The Director of Maintenance is assisted by one part-time helicopter mechanic. Both the Director of Maintenance and the part-time mechanic have decades of experience maintaining and managing both civilian and military helicopters. Together, they maintain the Air One helicopters in accordance with the highest Federal Aviation Administration (FAA) Part 135, Bell Helicopter, and Rolls Royce Engine maintenance standards.
Air One flies patients to the closest trauma center, which in most cases is Halifax Medical Center in Daytona Beach. Central Florida Regional Hospital in Sanford is the other local trauma center, and Air One also transports patients to Orlando Regional Medical Center or Arnold Palmer Children's Hospital as needed. Air One aircrews also perform inter-facility hospital transfers from one hospital to another when requested and available, but the vast majority of medevac missions are flown from a trauma scene such as a motor vehicle accident.
Air One aircrews typically perform more than 150 life-saving medevac missions each year in Volusia County. They also perform various search-and-rescue missions in support of the Coast Guard and numerous flights over forest fires.
One of the most frequently asked questions we receive on a daily basis is: Why is the helicopter over my neighborhood?
It's true that Air One helicopters are often seen and heard in the skies over Volusia County. Air One aircrews patrol day and night, just as deputies and police officers on the ground patrol in their vehicles. This way, they can spot crime in real time, respond more quickly to calls for assistance and, as proven time and time again, multiply our ability to save lives and catch criminal suspects.
Volusia County is larger in size than the state of Rhode Island. The amount of ground and airspace we have to cover is immense. However, if Air One is already in the air, the helicopter can reach any point in the county in 10 minutes or less. That response time may be lengthened by 5 to 10 minutes, depending on weather conditions and air traffic, from launch at the DeLand airport. Those minutes could be the difference between life and death, or between catching or not catching a fleeing suspect. Just like deputies and officers on the ground, Air One aircrews routinely patrol to be closer to the community and better able to respond at a moment's notice.
We do recognize that the sound of Air One over your neighborhood can cause disruption and concern. We hear you. We will do our best to limit prolonged activity over residential areas, but please know that if we're overhead, we're looking out for you. If Air One is orbiting near your location, the best thing you can do is to stay inside, lock all your doors, stay vigilant and call 911 if you see anything out of the ordinary. We may be looking for a suspect in your area, or we may be searching for a lost child – either way, any information you can provide may help us narrow the search area and resolve the situation. Locking your doors and staying inside will prevent any fleeing suspect from entering your home and help ensure our units in the air and on the ground (including K-9s) can focus on finding the individual(s) involved in the call.