About the Volusia Sheriff's Office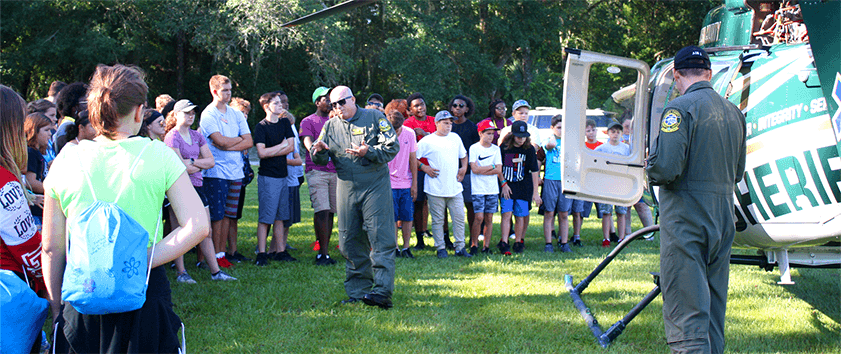 The Volusia Sheriff's Office is dedicated to preserving the peace, protecting residents and their property, enforcing all laws and detecting and preventing crime. With approximately 860 employees (about half of them sworn law enforcement officers and half civilian staff), 200-plus volunteers and a budget of about $112 million, the Sheriff's Office strives to maintain the highest professional standards while delivering a full range of community-based law enforcement and crime prevention programs to the citizens of Volusia County. In addition to our jurisdiction throughout unincorporated Volusia, the Sheriff's Office also provides law enforcement services on a contract basis in Deltona, DeBary, Pierson and Oak Hill.
Law enforcement services are based out of district offices in DeBary, Deltona, DeLand, Ormond Beach and New Smyrna Beach, substations in Pierson and Oak Hill and a centrally located Operations Center that combine to provide a wide range of patrol and criminal investigative services. A full range of crime prevention and public safety programs also have been integrated into the five district offices to make these services more convenient and accessible to the citizens we serve. The Sheriff's Office also operates a variety of highly trained specialized units, including narcotics, auto theft, crime analysis, intelligence, major case and juvenile investigations, sex crimes, victim advocate, traffic, aviation, bomb disposal, dive team, K-9, marine unit, SWAT team and homeland security. Following the terrorist events of Sept. 11, 2001, the Sheriff's Office accepted responsibility for providing law enforcement services at Daytona Beach International Airport.
The Volusia County Crime Center is a high-tech hub of crime analysts and detectives working together with local police departments to mine for intelligence, solve cases and provide real-time information to law enforcement officers on the ground. The Crime Center, also known as "VC3," is an ever-evolving component of VSO's fast-moving approach to fighting crime.
Crime prevention and youth education are a major focus of the Sheriff's Office's efforts to deter criminal acts. Current programs and services include a team of school resource deputies, an all-volunteer Citizens on Patrol program, a staff of school crossing guards and a Police Explorers organization.
The Sheriff's Office's Support Services Division is responsible for communications, evidence, fleet management, information systems, training and court services. Those court services encompass a variety of responsibilities, including courtroom security, extraditions, prisoner transport and the service of all subpoenas, writs and other official court papers throughout Volusia County. The Sheriff's Office also is responsible for operating the Emergency 911 system for Volusia County and additionally provides all police, fire and emergency medical dispatching services to the entire county and its 16 municipalities.
In addition to these programs and services, the Sheriff's Office has joined forces with local citizens, civic groups, other law enforcement agencies and business and education leaders to furnish a variety of community-based, partnership programs that provide an additional level of public safety by sharing and combining crime-fighting resources. These partnership programs include a countywide Crime Stoppers program, Neighborhood Watch and multi-agency drug task forces. Tapping in to the business community and assisting in crime prevention is Operation BOLO, or Business On the Look Out. Employees in participating businesses have been trained to assist deputies in spotting and deterring crime in the neighborhoods they service.
The Sheriff's Office also continues to tap into the expertise and background of our many citizen volunteers, utilizing local residents throughout the agency in unpaid positions ranging from receptionists, clerks and mail couriers to chaplains, victim advocates and citizen observers on neighborhood patrols. The Volusia Sheriff's Office's commitment to high performance standards and efficient, effective delivery of law enforcement services was recognized in 1991, when we became the 189th agency to be internationally accredited by the Commission on Accreditation for Law Enforcement Agencies, Inc., or CALEA.
Notice about the Americans With Disabilities Act

In accordance with the requirements of Title II of the Americans with Disabilities Act of 1990 ("ADA"), the Volusia Sheriff's Office ("VSO") will not discriminate against qualified individuals with disabilities on the basis of disability in its services, programs, or activities.
Read our full ADA notice here. For our ADA grievance procedure, please click here.