VSO Hosting Live Virtual Career Fair This Saturday With vFairs
Date Added: January 18, 2023 11:52 am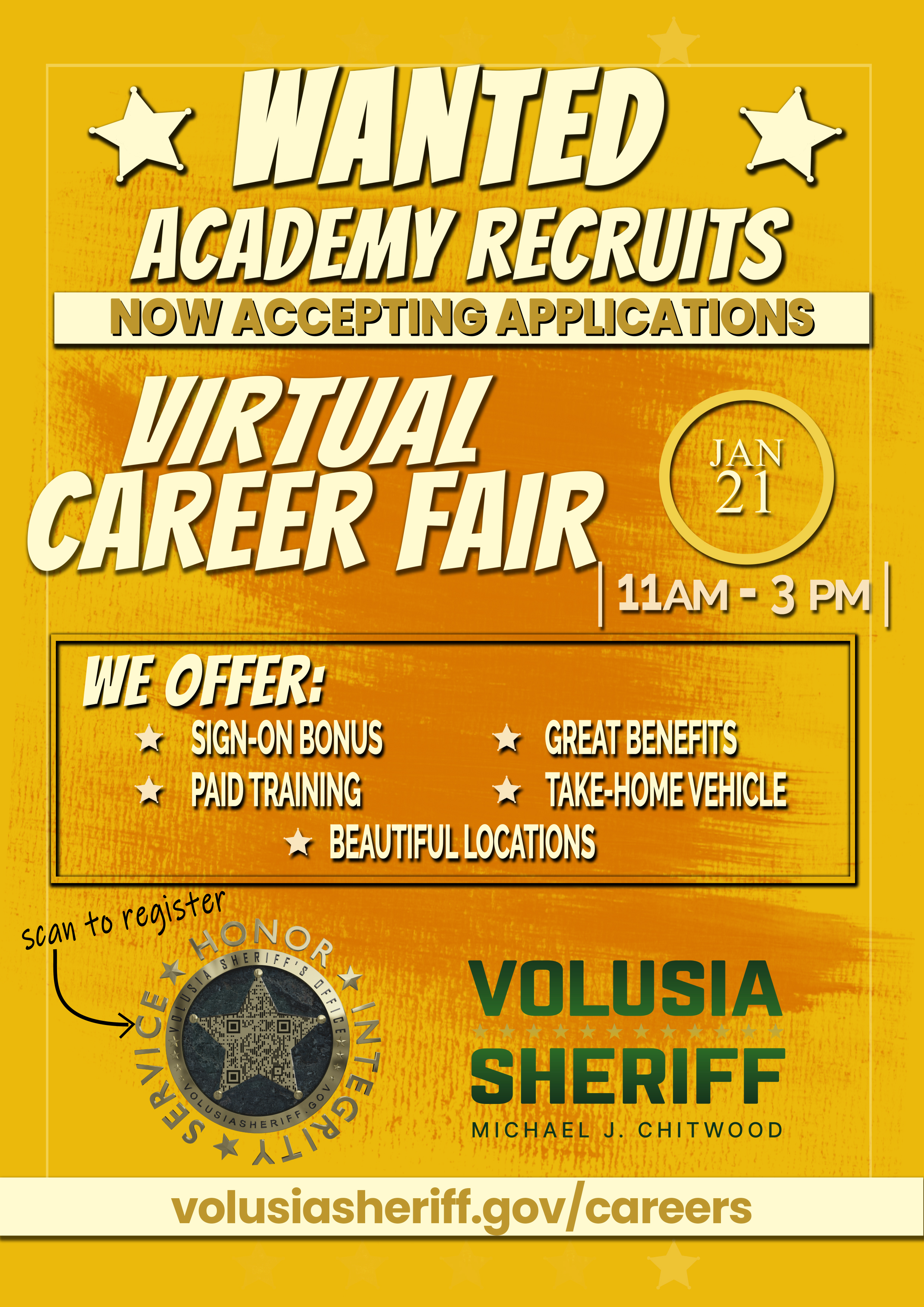 Andrew Gant
Office of Public Affairs & Media Relations
VSO HOSTING LIVE VIRTUAL CAREER FAIR THIS SATURDAY WITH vFAIRS
The Volusia Sheriff's Office is teaming up with vFairs to find great candidates through a virtual Career Fair that's accessible anywhere, even without leaving home.
The Volusia Sheriff's Office will host its first-ever virtual career fair this Saturday for candidates interested in a rewarding career in public safety.
The live event starts at 11 a.m. Saturday, Jan. 21, and runs until 3 p.m. on the vFairs event platform. Interested candidates can sign up here and register in advance. All who register by Jan. 21 will be able to access the career fair materials for 30 days following the live event.
VSO recruiters are looking for highly qualified applicants for numerous open positions in the agency. High school and college students, experienced professionals, veterans, and those looking for an exciting career change are all encouraged to apply. Anyone looking for information on the benefits of a career that makes a real difference in the community is welcome to attend.
One of the most exciting opportunities at the Volusia Sheriff's Office is the Training Academy for deputy recruits, which opened in April 2021. Designed for candidates who are brand-new to law enforcement, the VSO Academy puts recruits through a comprehensive, 8-month program that features both classroom instruction and realistic scenario training to provide a solid foundation for a successful career.
Academy recruits earn a starting salary and full benefits while they attend training, with a bump in pay and a $5,000 sign-on bonus available upon graduation.
"If you're the kind of person who takes pride in your work and loves making a difference in people's lives, we have the opportunity of a lifetime here," said Volusia Sheriff Mike Chitwood, who launched the new Training Academy as a way to make a career in law enforcement more accessible to new candidates. "It's not always an easy job, but if I could go back to the beginning and get a chance to sign up for an opportunity like this, I'd do it in a heartbeat."
The virtual career fair through vFairs is just another tool intended to help new candidates find an entry point to a Sheriff's Office career.
"Training opportunities and career growth through virtual events like this can make it much more accessible for all and I am glad vFairs is able to do it for so many of our clients," said Muhammad Younas, CEO of vFairs.
Again, the event is all set to begin at 11 a.m. Saturday, Jan. 21, and potential candidates looking for a career in law enforcement can register here.
Note: We're also hosting an exciting, in-person, "Not Your Ordinary" Career Fair the following Saturday, Jan. 28, from 10 a.m. to 2 p.m. at the Stephen Saboda Training Facility, 3901 Tiger Bay Road, Daytona Beach. During the in-person event, candidates will have the opportunity to tour our Training Facility and view scheduled demos from Air One, SWAT, Bomb, K-9 and drone teams, and more. Candidates will also have the chance to interview and even receive a conditional offer of employment the same day.
For more information on both events, visit https://www.volusiasheriff.gov/careers/career-fair.stml or just head to BecomeADeputy.com.
About the Volusia Sheriff's Office
The Volusia Sheriff's Office is dedicated to preserving the peace, protecting residents and their property, enforcing all laws and detecting and preventing crime. With approximately 860 employees (about half of them sworn law enforcement officers and half civilian staff), 200-plus volunteers and a budget of about $112 million, the Sheriff's Office strives to maintain the highest professional standards while delivering a full range of community-based law enforcement and crime prevention programs to the citizens of Volusia County.
About vFairs
vFairs is a virtual, hybrid & in-person events platform that helps organizations of all sizes, industries, and regions conduct memorable online events to achieve real business results. The virtual platform and mobile app offer versatile features and customization options. They also offer exceptional customer support consistently rated #1 on third-party sites like G2 and Capterra. This is why top organizations around the world have chosen vFairs to host Virtual Conferences, Online Trade Shows, Job Fairs, Virtual Training & more.