VSO Detectives Arrest NY Man Wanted in 'Grandparents Scam' in DeLand
Date Added: August 22, 2023 4:04 pm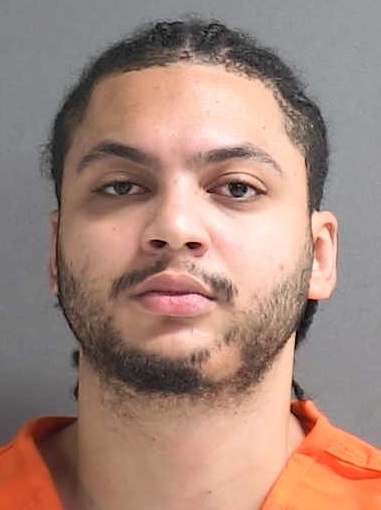 Laura Williams, Office of
Public Affairs & Media Relations
VSO DETECTIVES CHARGE N.Y. MAN WHO TRIED TO
DEFRAUD DELAND VICTIM IN 'GRANDPARENTS SCAM'
A 24-year-old Bronx, N.Y., man was extradited to Volusia County and charged with attempting to pull a "grandparents scam" on a DeLand woman by pretending to be her grandson who needed her to bail him out of legal trouble.
Joel Mathilda (DOB 02/26/1999) was transported by the Volusia Sheriff's Office Extradition Unit from New York to the Volusia County Branch Jail on Friday where he was arrested on an active warrant for fraud charges.
This suspect chose the wrong grandma to victimize in January when she received a phone call from someone pretending to be her grandson. She knew it was a scam because it was the very same scenario used to victimize her in an unrelated fraud case in March 2021. (Two male suspects were eventually arrested in that case.)
In recent years, Volusia sheriff's detectives have seen a rising number of fraud cases involving elderly residents being defrauded of thousands of dollars. Older victims receive phone calls from impostors pretending to be their grandchild who's in trouble following a car crash or some other misfortune.
The scammer demands thousands of dollars, in cash, to make sure the family member doesn't land in jail. Several Volusia County residents have fallen for this scheme.
In a recent twist, some impostors have used Lyft or Uber drivers who unknowingly became couriers for criminals to ferry the money from the victim's home to an unknown location and unknown third person.
That's what happened Jan. 24, 2023, when the DeLand victim received a call from a male "attorney" representing her grandson following a car crash in which another motorist was injured. If she sent $6,500, it would keep her grandson out of jail, the caller said.
The victim went along with the caller, agreeing to talk later in the day to "finalize" the transaction. In the meantime, she called her son and they contacted the Volusia Sheriff's Office. Our VSO detectives sprang into action, hoping to complete the money drop-off and arrest the suspect with the help of the Lyft driver.
The transaction wasn't completed that day, but through investigative means, detectives developed relevant information about the user who requested the Lyft driver.
That led detectives on an extensive social media search, including search warrants and subpoenas, to a person of interest known as JM, and ultimately identified as Joel Mathilda.
The search led them to a booking photo and police arrest report in Cayuga County, N.Y., where Mathilda was arrested in February for the exact same type of fraud – including using a courier.
In Florida, he was charged with organized scheme to defraud, grand theft and unlawful use of two-way communication device. Mathilda had a first-appearance hearing Saturday and was released after posting $60,000 bail.