Sheriff Chitwood Issues Reminders For A Safe Start To The New School Year
Date Added: August 09, 2023 12:29 pm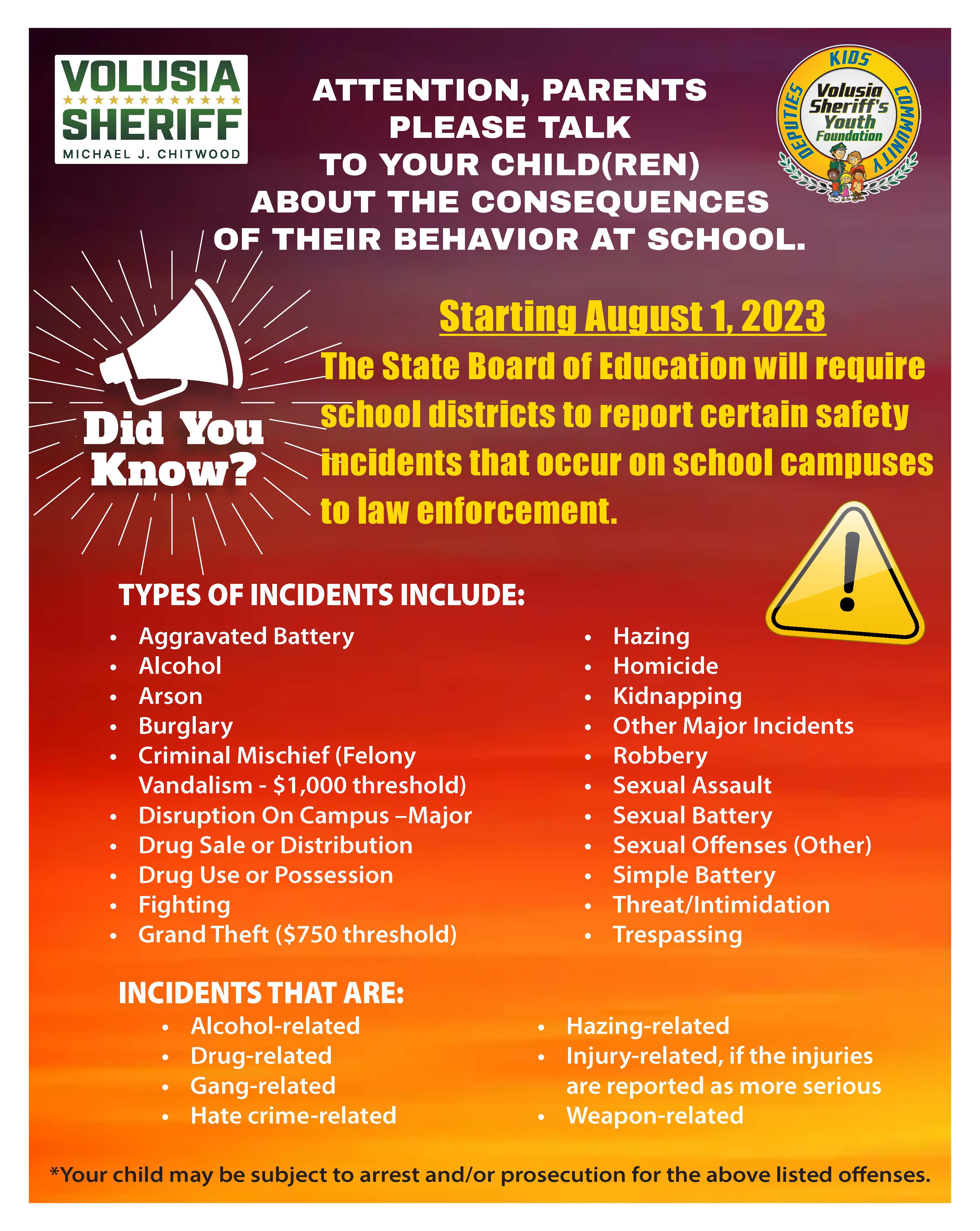 Andrew Gant
Office of Public Affairs & Media Relations
SHERIFF CHITWOOD ISSUES REMINDERS FOR A SAFE START TO THE NEW SCHOOL YEAR
With the first day of school coming up next Monday (Aug. 14), the Volusia Sheriff's Office and law enforcement agencies across Volusia County are gearing up for a safe start to the school year and asking the public to do the same.
With students back on the roads, sidewalks and crosswalks, safe driving and situational awareness will be a priority. Deputies will be conducting extra patrols and speed enforcement near school campuses for an added level of safety to complement the school resource deputies and officers, school crossing guards and school guardians working across Volusia County.
"If you're out driving at the start or end of the school day, the safety of our kids on their way to and from school starts with you," Sheriff Mike Chitwood said. "We have all the personnel and technology in place to make this a safe school year, but we need everyone in our community to pay attention and help us out."
One noteworthy change for the 2023-24 school year is an update on how Florida schools are required to report disruptive and/or criminal incidents that occur on campus. After finding that some incidents on school campuses across Florida were under-reported, this year the Florida Department of Education has specifically defined incidents that school districts must report to law enforcement. Those include obvious major crimes such as homicide, sexual assault and battery, and weapons possession, as well as possession of drugs or alcohol, vandalism, threats and fighting. Parents need to know that students can and will face criminal charges where warranted.
Deputies, police and school guardians have continued to receive realistic training on response to an active assailant in the event of the worst-case scenario on a school campus. The program includes single-response training, which demands that a solo deputy or officer must immediately move in and confront the threat alone if he or she is the only unit on scene in the first critical moments.
Anyone who has information about a potential threat to a school campus is urged to use the FortifyFL app or website to alert law enforcement and provide as much detail as possible.
In conjunction with Volusia County Schools, the Sheriff's Office has also been providing continuing training with staff on use of the Centegix crisis alert system. The Centegix system outfits school staff with wearable badges that include a button to alert law enforcement to an incident or crisis. While several false alarms were raised in the previous school year, each one receives an urgent response from patrol deputies in the area.
The Sheriff's Office is committed to the safety and security of every student and school employee, and Sheriff Chitwood has a dedicated captain, Capt. Todd Smith, assigned as Director of Safety and Security for Volusia County Schools. The Sheriff's Office will continue to work closely with the School District to ensure parents can send their kids to school knowing they're in a safe place to learn, develop their skills and build their future.
Reminder: Tonight (Wednesday evening) is the third in our series of Youth Safety Forums addressing Internet predators, human trafficking and other dangers youth are facing. This one is at Deltona City Hall (2345 Providence Blvd.) from 6 to 7:30 p.m., and parents, grandparents, guardians, kids and families are all encouraged to attend.