Sign Up Now: Teen Driver Challenge Aims to Prevent Crashes
Date Added: October 18, 2017 2:45 pm
Laura Williams
Office of Public Affairs & Media Relations
SIGN UP NOW: TEEN DRIVER CHALLENGE AIMS TO PREVENT CRASHES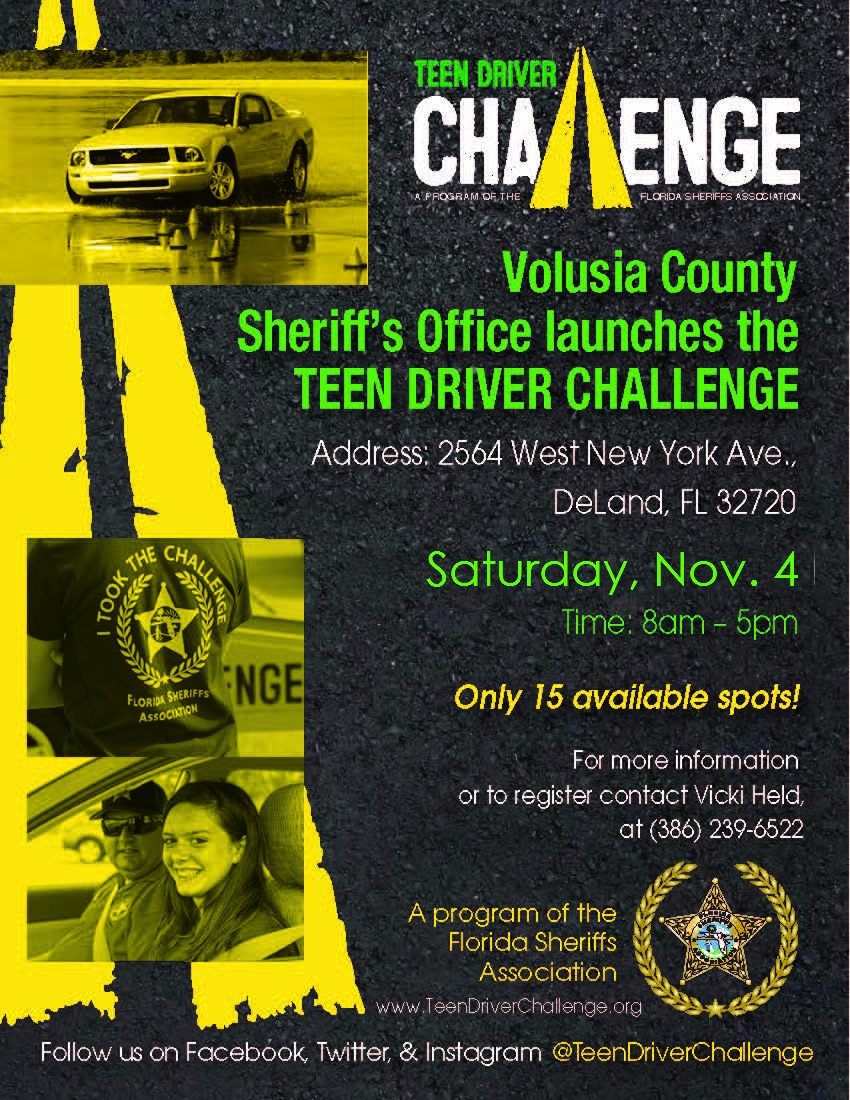 Area teens can take a free class Saturday, Nov. 4, 2017, to learn advanced driving skills and how to avoid traffic crashes. The course, called the Volusia County Sheriff's Office Teen Driving Challenge, teaches teens how to prevent crashes through defensive driving techniques. Students will learn life-saving skills such as how to safely maneuver around corners, brake during emergencies and recover from a skid.
The program, presented jointly with the Florida's Sheriffs Association, includes classroom instruction and hands-on training at the Sheriff's Office driving range in DeLand.
Don't wait: Class size is limited to 15 participants and some of those seats are already taken. Seats are available first-come, first-served. Students must have a valid driver's license and use their own car. Classes are held at the Sheriff's Office driving range, 2564 W. New York Ave., DeLand, from 8 a.m. to 5 p.m.
To enroll in the class, all registration forms must be completed and returned to the Sheriff's Office before the class begins. The deadline to return registration forms is Wed., Nov. 1, 2017. For more information or to request registration forms, call the Volusia County Sheriff's Office Training Section at (386) 239-6522 or email Vicki Held at vheld@vcso.us.
This is the last class scheduled in 2017; classes are scheduled monthly in 2018, beginning Saturday, Jan. 13.