Sheriff Johnson Presents Purple Heart And Medal Of Valor to K-9 Shot In The Line Of Duty
Date Added: February 09, 2016 12:00 am
Gary Davidson
Public Information Officer
Despite being the center of attention, Endo clearly appeared unfazed and even a bit distracted at his awards ceremony on Tuesday. That Endo is a dog could explain the somewhat ho-hum reaction. But Endo isn't just any dog: He's a very special and courageous police K-9 for the Volusia County Sheriff's Office who has made a full recovery after taking a bullet in the neck three months ago in the line of duty.
With the 4-year-old German Shepherd back to good health and back to work, Sheriff Ben Johnson took the rare step on Tuesday of presenting Endo with two of the agency's top awards -- the Purple Heart and the Medal of Valor. "This dog did exactly what he was trained to do," Sheriff Johnson remarked at Tuesday's awards ceremony. "If it wasn't for this dog, it's very likely we could have lost deputies. And it's really amazing that we didn't lose the dog." Not only did Endo survive the shooting, but remarkably, he was back to work a mere 12 days later.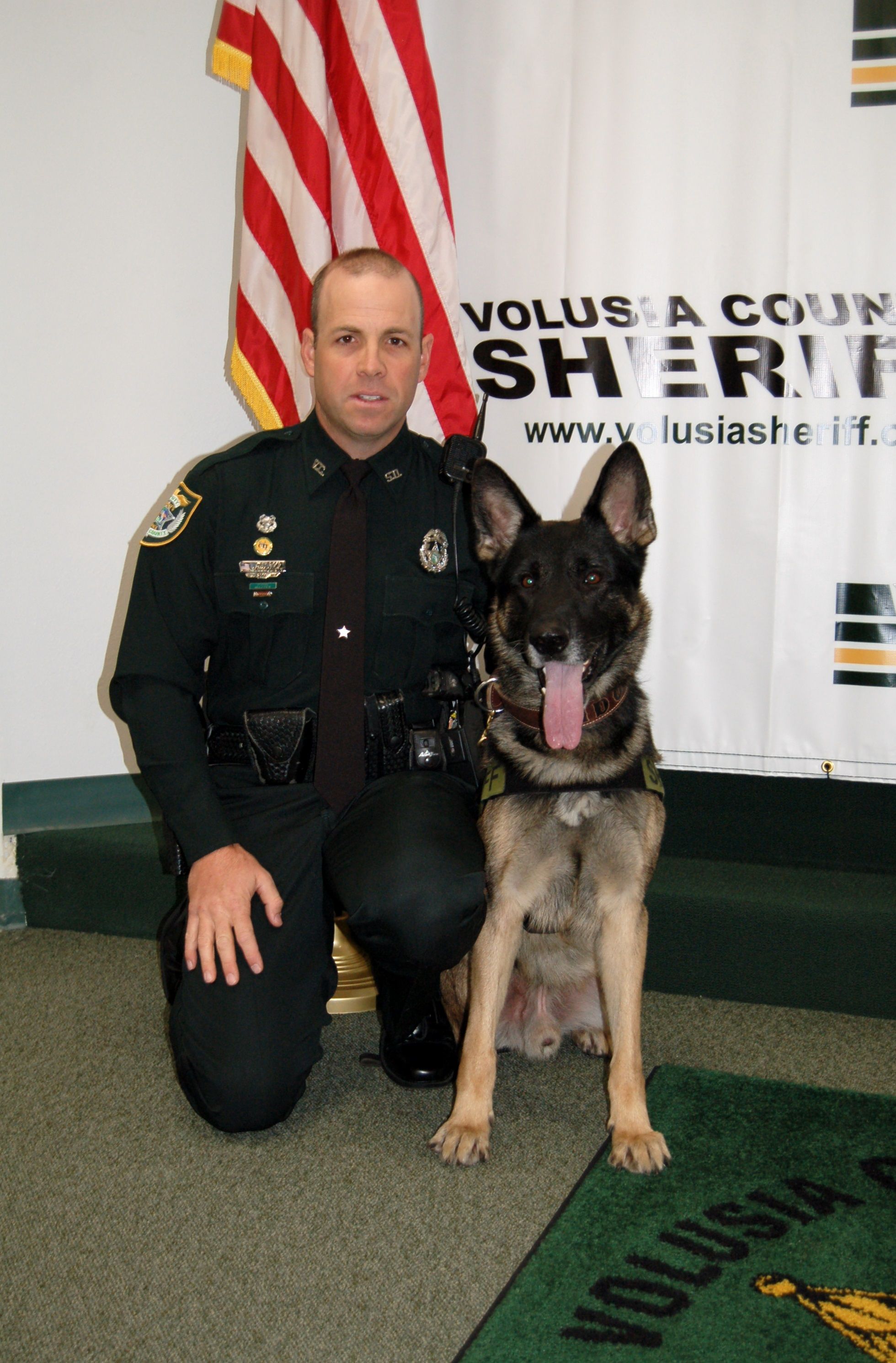 It was the first time that anyone could remember a Volusia County Sheriff's K-9 earning such high honors. But Endo's fearlessness in the face of gunfire made him just as deserving as his human counterparts. Also honored on Tuesday were Endo's K-9 handler, Deputy Brett Whitson, and the DeLand Animal Hospital for treating Endo's wound and helping him to make a full and speedy recovery. Endo was shot on Nov. 4, 2015 while responding with his K-9 handler to a domestic disturbance call in Deltona. Shortly after deputies arrived at the scene, the sound of gunfire pierced the air. A female victim was injured in the arm and side of her body by the shots and taken to Central Florida Regional Hospital in Sanford for treatment of her non-lethal injuries. Although it wasn't immediately apparent, Endo was also shot in the melee. Despite several more rounds of gunfire zipping in the direction of responding deputies, the officers held their fire. While the K-9 tracked the suspect into some nearby woods, Deputy Whitson recalled Endo when he heard the gunfire. As Deputy Whittson held Endo by the collar, it was only then that he discovered that the K-9 had been shot in the neck. Despite the serious injury, Endo didn't let up for a moment and was poised, vigilant and more than willing to re-engage the suspect. As it turned out, that wouldn't be necessary. A short while later, the suspect took his own life. Meanwhile, Endo was taken to the animal hospital for emergency surgery. But not before his handler, Deputy Whitson, effectively managed the scene while remaining remarkably calm and waiting for additional back-up units to arrive.
At Tuesday's awards ceremony, first the citation was read aloud to the gathered audience of co-workers and media representatives who were on hand to observe the presentation. "Even after being seriously wounded, K-9 Endo was willing to re-engage the suspect to protect the lives of his fellow Deputies," the citation noted. "His actions reflect great credit upon himself and the Volusia County Sheriff's Office."
Next, Sheriff Johnson presented Endo with his medals. Deputy Whitson also was honored on Tuesday as well, named the Sheriff's Office's Deputy of the Quarter. "It's a great honor for me to be able to present this to you," Sheriff Johnson told Deputy Whitson. And a special thanks in the way of an Outstanding Citizenship Award was presented to four members of the staff from the DeLand Animal Clinic. Deputy Whitson, meanwhile, added to the accolades and thanked the animal hospital for its quick actions and delicate medical treatment. "You guys met me there at the door and rushed right in in the middle of the night and took care of him. I couldn't say enough about it," remarked Deputy Whitson. "I appreciate what you do for us."