VCSO Honors Volunteers At 22nd Annual Dinner
Date Added: April 12, 2018 4:39 pm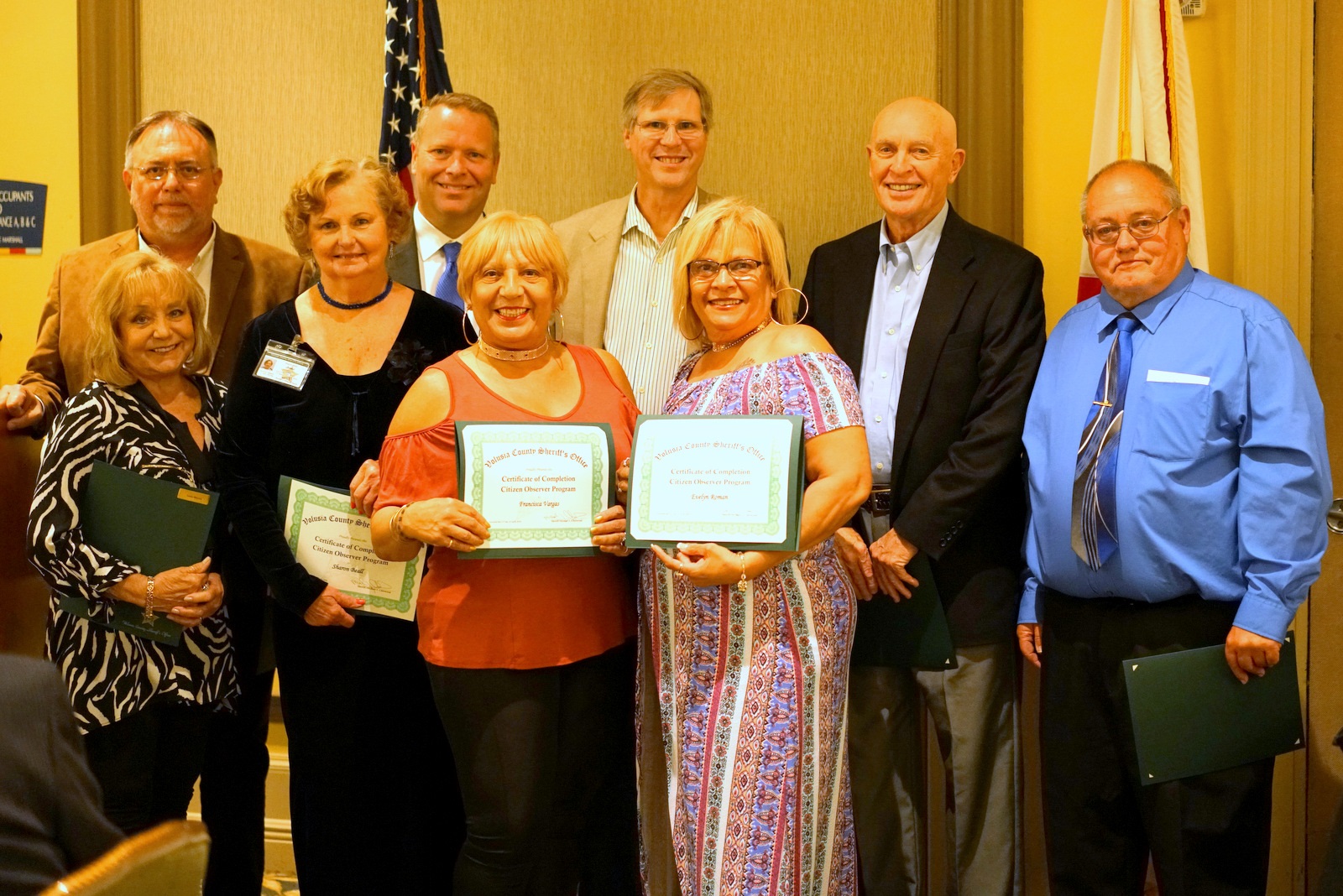 VCSO HONORS VOLUNTEERS AT 22ND ANNUAL DINNER
The Volusia County Sheriff's Office took time Wednesday night to say a warm thank-you to dozens of people who spend time volunteering for our agency all year long because they care about law enforcement and our community.
From helping direct traffic or investigate crashes, to performing clerical duties, to assisting detectives with cases of fraud against the elderly, our Sheriff's Office volunteers are counted on and valued for all they do. The VCSO hosted its 22nd annual Volunteer Appreciation Banquet on Wednesday at the Shores Resort & Spa in Daytona Beach Shores.
Chief Deputy John Creamer presented awards to the recipients as Sheriff Mike Chitwood could not attend. But the honorees were treated to a video message from Sheriff Chitwood, who thanked them for the nearly 49,000 hours of volunteer time they spent in 2017. That translates to more than $1.1 million of taxpayers' money saved, the sheriff said.
"You give of yourself. That's far more valuable than any money," Creamer told the volunteers. "Thank you for all you do."
During the presentation, the spring 2018 graduating class of the Citizen Observer Program was honored. They are: Sharon Beall, Peter Best, Guy Dragon, Edward Groel, Sotirios George Kaminis, Linda Mineer, Evelyn Roman and Francisca Vargas. (See photo attached of COPs with Chief Creamer). Also recognized was a group of 13 new volunteers who have joined since the last volunteers banquet.
Chief Creamer presented a special President's Call to Service Award to two volunteers on behalf of the U.S. President's Council on Service and Civic Participation. The VCSO has previously presented 84 such awards. This award recognizes volunteers who have contributed at least 4,000 years. For 2017, the award went to Michael Lawrence and David Whitmore. Also honored were four recipients of the Volunteer of the Quarter for 2017. They are: Earl Bennett, Betty Cohn, Daryl Pryce and Patsy Rains.
The Sheriff's Office also honored three members of the Citizen Volunteer Auxiliary Program (CVAP) for their contribution of five years of service. They are: Kenneth Gilleo, Sheryl Lodge and Linda Wands. In addition, CVAP members were honored for their accumulated hours, which ranged from 250 hours to 7,158 hours of service to the Sheriff's Office.
Members of COP were also honored for their years of service, which ranged from five to 20 years. For accumulated hours, COP awards ranged from 250 hours to 15,834 hours.
Sheriff Chitwood and the VCSO are truly grateful for the service of all our dedicated volunteers who go above and beyond to help our agency run. Thank you for all that you do!