Sheriff's Office Employees Of The Year Honored
Date Added: March 13, 2012 1:30 pm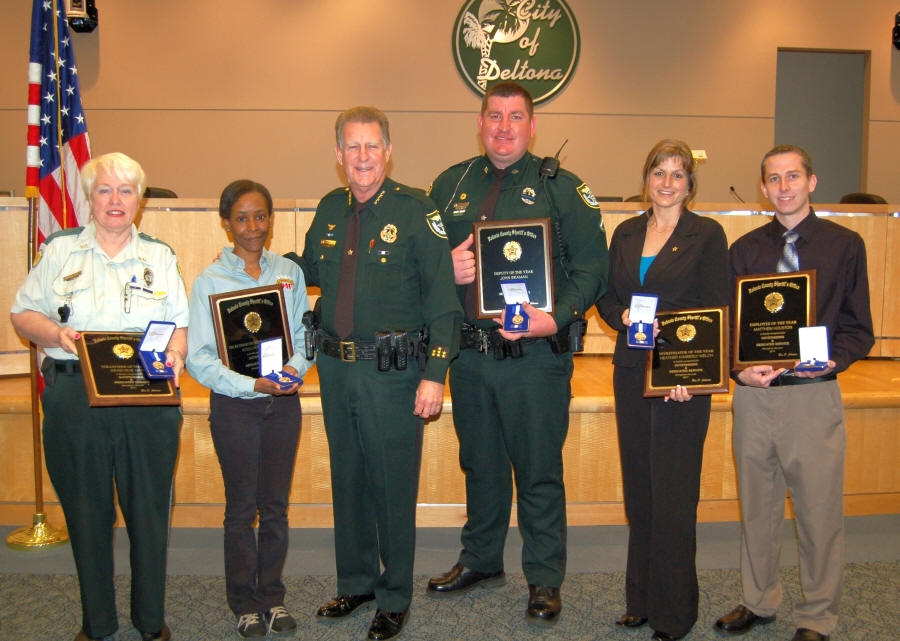 Brandon Haught
Public Information Office
Each year four Volusia County Sheriff's Office employees and one volunteer are carefully chosen out of an outstanding pool of well over 1,000 people for their exceptional work performance. The five demonstrated superior work ethic and achievement, not only during the past year, but also throughout their careers serving the county's citizens. Sheriff Ben Johnson honored these top-performing Employees of the Year 2011 during a ceremony in Deltona, Tuesday.
Deputy of the year John Braman was simply following up on a domestic violence incident one day in late November by looking for the suspect at his mother's Deltona home. But what should have been a routine search exploded into a life or death struggle when the suspect pulled out a gun and fired on Braman and another deputy, John Brady, who was backing him up. Braman sustained a gunshot wound to his left arm, but he didn't give up as he and the suspect struggled on the ground for control of the weapon. Another bullet narrowly missed Braman's face and tore into his shoulder instead. Despite his injuries, Braman pinned the suspect's shooting hand to the ground. Brady had also suffered a bullet wound during the melee, but the two deputies were finally able to twist the gun out of the suspect's hand and secure him.
In addition to earning deputy of the year honors, Braman along with Brady was awarded the Medal of Valor and Purple Heart for his exceptional courage and calm professionalism.
Investigator of the year Heather Welch is an invaluable member of the criminal investigations unit of the Deltona district office. She is well known for her caring and considerate demeanor that helps crime victims and witnesses feel comfortable enough to share as much information as possible. In one such case, Welch spoke with a domestic violence victim whose attacker was also a possible suspect in an armed robbery. As Welch dug ever deeper into the investigation, it developed into a multi-jurisdictional case involving two other counties. Even though the robbery case got more complicated, Welch never forgot about the domestic violence victim. When the suspect tried to contact the domestic violence victim from jail in an effort to have her drop the charges, Welch presented the necessary information to convince the judge to revoke the man's bail. Meanwhile, she put extra time and effort into matching a store's inventory lot numbers to evidence she had personally retrieved, showing her commitment to going above and beyond.
"She performs like a bloodhound on a scent, and leaves no stone unturned until she gets the information and evidence she needs to prosecute the case," said her former supervisor Lieutenant Erik Eagan.
Network administrator Matt Houston was selected as employee of the year for his outstanding technical support provided to the Sheriff's Office. And just as important is the assistance he provides to the many other agencies that utilize the Sheriff's Office's dispatch and records management systems. Houston's vast knowledge and expert analysis is a significant reason why the Sheriff's Office is well respected throughout the local I.T. community. His programming and database skills along with his detailed knowledge of networks and systems make him a valuable resource capable of resolving complex issues. Houston is vital to the success of the public safety dispatching services consolidation efforts and has provided extensive support to nearly every other agency in the county.
"Matt's assistance is frequently requested by other agencies, which often comes in the simple form of 'can we borrow Matt?'" said Information Systems Director Tim Jolley. "Matt is able to provide this additional support while still performing his normal duties and responsibilities at an exemplary level."
Telecommunicator of the year Rosilyn Phillips was working in the communications center on the radio for Deltona law enforcement Nov. 26 when the shooting incident involving deputies Braman and Brady suddenly erupted. As soon as the on-scene deputies announced that shots had been fired, Phillips quickly dispatched additional units and notified all supervisors. She remained calm while under the most stressful conditions a dispatcher can experience. Through her actions the wounded deputies got the aid they needed as quickly as possible. Additionally, Phillips is well known for going above and beyond on a daily basis and handling an above average number of calls every shift she works.
Volunteer of the year Genevieve Mero has been a member of the Sheriff's Office's Citizen Observer Program since 2003, and is on a COP district leadership team and is a COP trainer. When the COP administrative assistant was on medical leave for several months, Mero volunteered to take on the day-to-day administration of the program in addition to her own duties. This included working many extra hours and the completion of monthly reports, which required compiling all the information on patrols, traffic control details, special details, and hours volunteered from the five districts. Additionally, Mero answered phones, processed mail and assisted with the start up and completion of the spring COP training class.
"I can say without reservation that without her help the Citizen Observer Program would not have been able to continue on as effectively as it did," said COP Coordinator Tim Lamprey.
Sheriff Johnson praised all of the award recipients and stressed that neither he nor his command staff chose the awardees. "This is their peers who have nominated them for a job well done."
Sheriff Johnson also awarded Employee of the 4th Quarter honors during Tuesday's ceremony. Investigator of the quarter Brian Cobb has been an investigator in the Sheriff's District 2 office, DeLand, for less than a year, but he has already solved several burglaries and recovered thousands of dollars in stolen property. An especially noteworthy success was the solving of an armed robbery where a gunman fired a shot and stole money from a local business and one of its customers. Cobb's attention to detail led to five arrests and the recovery of some of the stolen property.
Employee of the quarter Darin Gallant's contribution to the warrants section has proven to be invaluable. He created a detailed and easy to understand instruction book on how to complete all of the warrants tasks. The book helps people who are being cross-trained and others who are simply helping out in the section, making everyone feel comfortable that there is a handy resource that answers all of their questions.
Volunteer of the quarter George Burnett helps out at the Sheriff's District 4 office, Deltona, in the Citizen Observer Program. He's been at it for 20 years and has shown a dedication to the program that is above and beyond what is normally expected. He does vehicle maintenance, extra details, twice a week patrols and is an assistant training officer.
Deputy of the year Braman was also deputy of the quarter, and telecommunicator of the year Phillips was also telecommunicator of the quarter.