Volusia Sheriff Mike Chitwood Receives Leadership Award From Police Executive Research Forum
Date Added: July 21, 2023 12:18 pm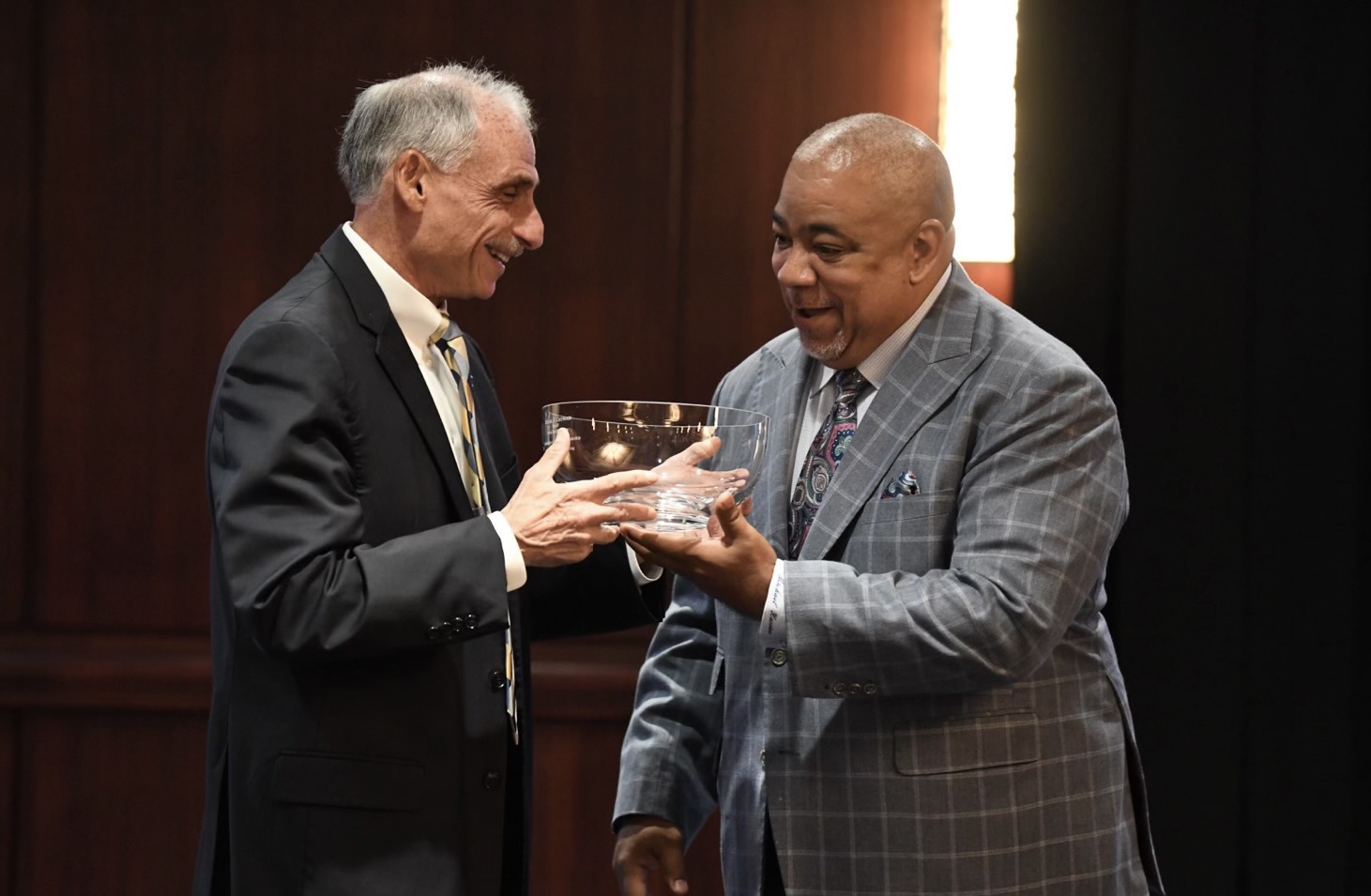 *Police Executive Research Forum News Release*

FOR IMMEDIATE RELEASE
CONTACT:
John Springer
Police Executive Research Forum
202-454-8332
www.policeforum.org

VOLUSIA SHERIFF MIKE CHITWOOD RECEIVES LEADERSHIP AWARD FROM POLICE EXECUTIVE RESEARCH FORUM
The Police Executive Research Forum (PERF) presented its 2023 Leadership Award to Volusia County, FL Sheriff Mike Chitwood today at PERF's Annual Meeting in New York City.
PERF's Leadership Award is presented annually to individuals who have made outstanding contributions to the field of law enforcement and who exemplify the highest principles and standards of true leaders in policing on a national level. In addition to Sheriff Chitwood, Chief of Police Roxana Kennedy of Chula Vista, CA also received the 2023 Leadership Award.
Chitwood was elected Sheriff of Volusia County in 2016 and reelected in 2020. Previously he had served as chief of police in Daytona Beach, FL and Shawnee, OK, following 18 years in the Philadelphia Police Department.
Chitwood took over as Volusia County Sheriff with a promise to review the agency's practices and organizational culture, particularly regarding use of force. He soon implemented a number of changes to encourage a view of law enforcement as guardians of the community and emphasize the sanctity of human life.
Notably, Volusia County was an early adopter of the ICAT (Integrating Communications, Assessment, and Tactics) de-escalation training program and setup its own training academy, where recruits could be trained in the culture of the agency and the principles of ICAT from day one. The results have been dramatic. Between 2016 and 2022, total use-of-force incidents involving Volusia County deputies dropped by nearly two-thirds, even as the number of calls for service remained fairly steady, and deadly force incidents declined to 0 in 2022.
Earlier this year, Sheriff Chitwood responded to a series of antisemitic attacks in the area by organizing a press conference with a diverse group of community organizations and calling out the extremists publicly. "You came to the wrong county," he announced to the hate group behind the attacks, which had also threatened him personally; "I stand with my Jewish friends, and I'm honored to be on your hit list."
"Mike Chitwood has distinguished himself all through his career," said PERF Executive Director Chuck Wexler. "In Philadelphia, then-Police Commissioner John Timoney called Chitwood the absolute best cop he had ever known for his tenacious and relentless ability to solve crimes. When he came to Volusia County, Chitwood set about to change the culture and reduce police use of force. Through careful study and new training, Volusia County has seen a major drop in incidents and is now a model for other agencies to replicate. And finally, when citizens were terrorized by antisemitic threats, Sheriff Chitwood stood tall and defended them."
Receiving the Leadership Award, Sheriff Chitwood said:
"It's an absolute honor to stand here. . . . I think the message for all of us in this room is always to remember, whether someone's burning a police station, firebombing a police car, looting a store, or calling for wiping out a race, religion, or people of a certain ethnicity or sexual orientation, it's extremism, and we need to fight it. There is no 'good people on both sides' here. We have to stand up for our community."
The Leadership Award, PERF's highest honor, has been presented every year since 1984. Recipients include Charles H. Ramsey, police chief in Philadelphia and Washington, D.C.; Bill Bratton, police chief in Boston, New York, and Los Angeles; and Pinellas County, FL Sheriff Bob Gualtieri.
The Police Executive Research Forum is a Washington, D.C.-based national membership organization of police executives from the largest city, county, and state law enforcement agencies. PERF is dedicated to improving policing and advancing professionalism through research and involvement in public policy debate. For additional information, go to www.policeforum.org.