Saturday is National Prescription Drug Take Back Day -- Bring Unused Meds to VSO Sites
Date Added: October 26, 2023 1:05 pm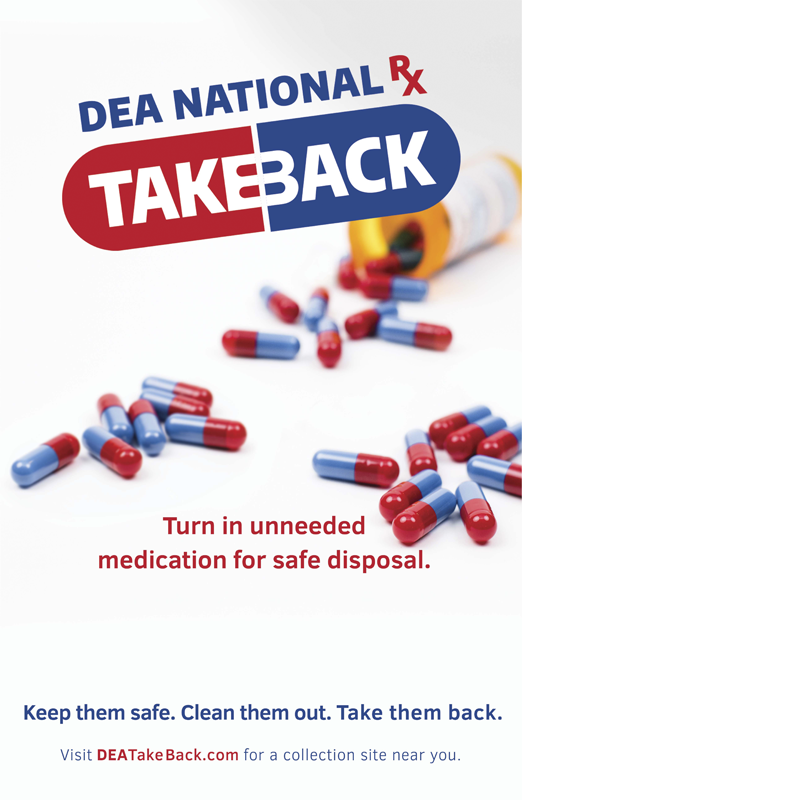 Laura Williams, Office of
Public Affairs & Media Relations
Drop Off Your Unwanted Meds Saturday at our VSO Collection Sites
This Saturday is your chance to save lives and the environment by rounding up your unneeded, expired or unneeded medications for the 2023 National Prescription Drug Take Back Day.
It's important to rid your home of these drugs to avoid accidental poisoning of children or pets. And it deters intentional misuse by teenagers and adults, as well as the possibility of theft. You can also prevent polluting our water systems by turning in unwanted meds to be destroyed rather than flushing them down the toilet.
The Volusia Sheriff's Office participates in this campaign twice a year – April and October -- to help our communities get rid of medication and vaping devices that have been linked to injuries, addiction and overdose deaths.
Here's where to bring your unused medications. No questions asked – just head to these VSO district locations Saturday (Oct. 28) from 10 a.m. to 2 p.m.:
VOLUSIA SHERIFF'S OFFICE COLLECTION SITES:
• District 2: *New location* -- Aviation Unit, 951 Singleton Drive, DeLand. INFO: (386) 943-7688.
• District 3 North: 1435 U.S. 1, Suite D-3, Ormond Beach. INFO: (386) 323-0151.
• District 4: 1691 Providence Blvd., Deltona. INFO: (386) 860-7030.
• District 6: 79 S. Charles Beall Blvd., DeBary. INFO: (386) 668-3830.
If Saturday's collection sites aren't convenient, you'll find a locked, mailbox-style receptacle at the District 3 North, 4 and 6 offices so you can safely dispose meds during regular business hours all year long.
Or, Volusia County residents may call a deputy at (386) 248-1777 to request a pickup.
MORE RESOURCES: The Drug Enforcement Administration (DEA) web site www.dea.gov/resources offers important help for locating drug treatment, identifying counterfeit pills, preventing drug addiction and more.
Thanks for doing your part to protect your home and our environment. We can each make a difference and help keep our loved ones safe.