VCSO Honors Top Employees of the 2nd Quarter
Date Added: August 01, 2018 5:14 pm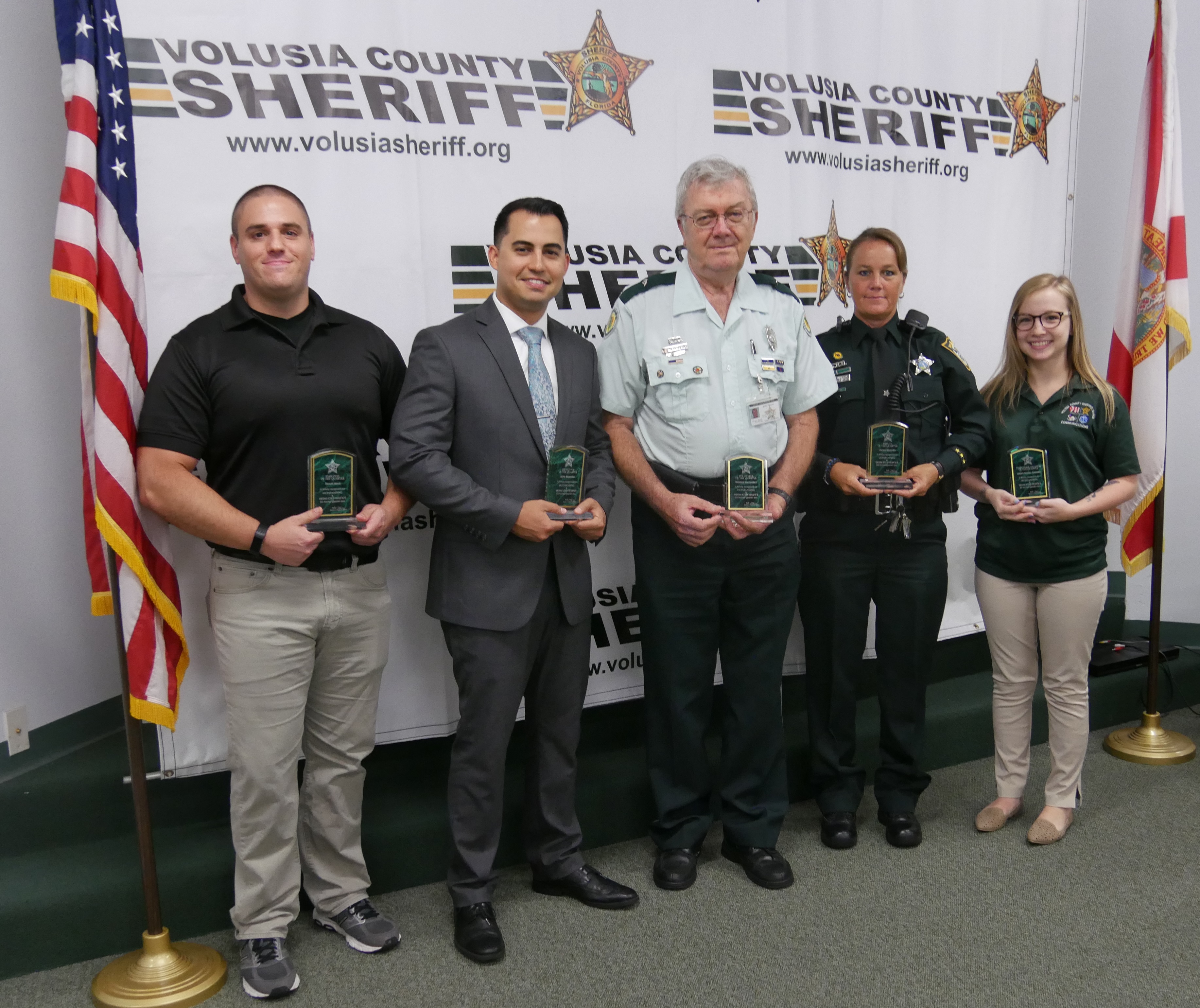 Laura Williams
Office of Media Relations & Public Affairs
VCSO HONORS TOP EMPLOYEES OF 2ND QUARTER 2018
Five members of the Volusia County Sheriff's Office were recognized Wednesday for their excellent work during the second quarter of 2018.
Deputy of the Quarter Senior Deputy Jackie Mullins is being honored for her work with the Sheriff's Office's School Resource Deputy program, which she joined in 2003. Since 2015, she has served at Creekside Middle School. This year, she created a program called Backpack Brigade after learning children at her school did not have the resources to eat regularly. She patterned the program after a grass roots program in Seattle, Wash., in 2014, said Capt. Erik Eagan, who nominated her as Deputy of the 2nd Quarter. Deputy Mullins has organized donations, filled backpacks with food and rounded up volunteers at the school to supply food to six children in need and their families on weekends. She also e created a student mentoring program at Creekside, where she meets with students daily to discuss academic success, attendance, tardiness, good behavior and bullying, among others. "Deputy Mullins has received several compliments from parents, teachers, school counselors and administrators for her successful programs and positive attitude at work," Eagan wrote, adding that her initiative and perseverance continuously make a difference in these students' lives.
Detective of the Quarter Seth Amrhine is recognized for his great determination and detective skills during a nearly two-year investigation into the disappearance of a woman from Deltona. Assigned the case in October 2016, Detective Amrhine interviewed the victim's family and friends, and used technology to track cell phone records, leading him to the victim's ex-boyfriend as a person of interest. Detective Amrhine located the victim's vehicle in New Jersey and the ex-boyfriend in Michigan. Human remains were found in November 2016 in a wooded area along the route the ex-boyfriend used to leave Volusia County. Throughout this investigation, the detective relied on forensic science, anthropology reports and police work to build a solid case. It took perseverance, patience and passion. Finally, in July 2018, Detective Amrhine's efforts were rewarded when the State Attorney's Office reviewed the case and found enough probable cause to seek an arrest warrant for second-degree murder. The suspect was arrested and the victim's family has been given some closure. "He should be proud of his accomplishment as he has done honor to himself, his family and the agency," wrote Sgt. A.J. Pagliari, in nominating Detective Amrhine as Detective of the 2nd Quarter 2018.
Employee of the Quarter Travis Held was asked in February 2018 to temporarily take on extra duties of the agency's Travel Administrator, due to a staffing shortage. "He willingly accepted this additional workload, with the understanding that there could be no reduction of effort in his primary function" of Office Assistant III, wrote Fred Wenk in his nomination. While working as Travel Administrator, Travis found several areas that could be improved upon and he streamlined the travel process. "As a result of his efforts, the travel process is now smooth, efficient and above all, cost effective. Travis is now the 'permanent' Travel Administrator," Wenk wrote.
Telecommunicator of the Quarter Aimee Nicole Gamble is being honored for her quick action during an emergency call on June 26, in which a caller stated his father was unresponsive and not breathing. Telecommunicator Gamble directed a trainee throughout the call, keeping her calm and focused to guide the caller through four rounds of CPR instruction. "After being on scene for 12 minutes, EVAC advised they regained pulses due in part to Aimee's swift actions and good directions having her trainee immediately begin giving CPR instructions," wrote Stephanie Dipietrantonio of VCSO Communications, in her nomination. In two other calls this year – March 21 and Feb. 18 – Gamble provided lifesaving CPR instruction that resulted in EVAC regaining pulses on both patients. "Aimee is a valuable member of our training team and an asset to the Sheriff's Office Communications Division."
Volunteer of the Quarter Walter Klucovsky is recognized for his work as a member of our Citizen Observer Program (C.O.P.)for 14 years and especially his work as the call-out supervisor in District 4. C.O.P. Klucovsky has devoted at least 6,652 volunteer hours to our agency. "Walter is well-liked and respected by his peers and is invaluable to the COPs in District 4. He patrols Monday mornings with his wife Marie Allen and Friday mornings with a new C.O.P Alex Hernandez," wrote fellow C.O.P. Daryl Pryce. Though he no longer serves as the call-out supervisor in District 4, "he still remains on the call-out list ready to be available at a moment's notice here in the district or county," Pryce said.
Sheriff Mike Chitwood recognized all the honorees during an awards ceremony Wednesday morning at the VCSO's Stephen Saboda Training Center in Daytona Beach. Afterward, Chitwood thanked all for their exemplary work and devotion to their jobs and the community. The Sheriff's Office congratulates all the award winners and sincerely appreciates their efforts.
Shown in the photo of the five employees of the year are from left: Travis Held, Detective Seth Amrhine, C.O.P. Walter Klucovsky, Senior Deputy Jackie Mullins and Telecommunicator Aimee Gamble.