Sheriff's Office Honors Best of the Best in Annual Awards Ceremony
Date Added: February 28, 2018 3:52 pm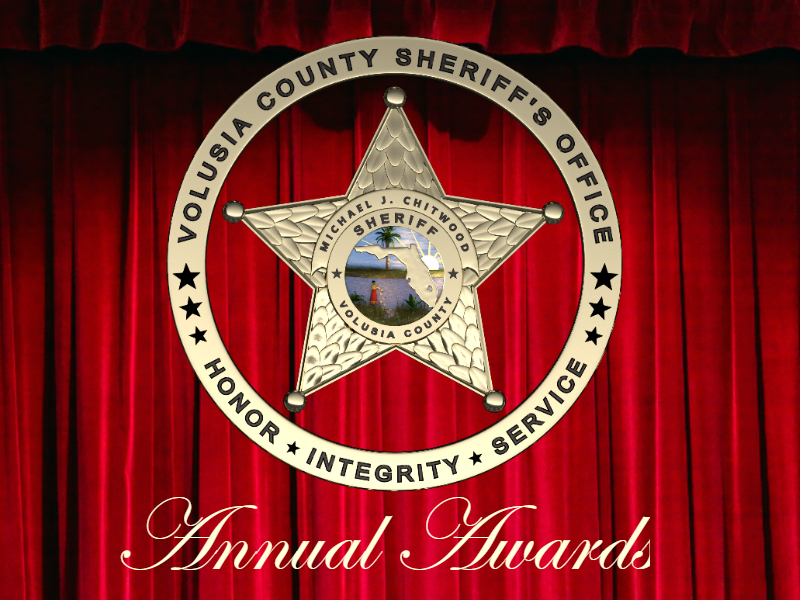 Laura Williams
Office of Public Affairs & Media Relations
SHERIFF'S OFFICE HONORS BEST OF THE BEST IN ANNUAL AWARDS CEREMONY
From a telecommunicator who talked a female caller safely through being held hostage by a gun-wielding family member, to a detective that persevered for four years to convict Luis Toledo of homicide, to members of the community who have stepped up to help the men and women who protect their neighborhoods, the Volusia County Sheriff's Office honored some of its outstanding members and supporters Tuesday night.
The second annual awards event under Sheriff Mike Chitwood was held at the Athens Theatre in DeLand. The event recognized both sworn and non-sworn members of the VCSO, as well as citizens who have supported the agency and its causes through their time and financial gifts. In addition, six fallen officers of the VCSO, dating back to 1895, were remembered.
Here's a look at the award winners recognized Tuesday night:
DEPUTY OF THE YEAR: Blaine E. Lewis – for her tireless work at the VCSO. "She's a strong go-getter. She never quits. Always striving to do the best," Deputy Kevin Moss said. "She never gives up. She's always there for her teammates. She's just a hard-charging individual. Deputy Lewis, this is an awesome job you've done for this last year. Keep up the great work."
DETECTIVE OF THE YEAR: Bryan Ford – for his perseverance in the 2013 case of Luis Toledo, who was convicted of killing his wife and her two children in late 2017. "It was Bryan Ford and the work he did, running down leads, maintaining relationships with the family, maintaining relationships with the prosecution," said Sgt. A.J. Pagliari of the Major Case Unit. "It was his dedication and his effort in which, Luis Toledo was held to task."
TELECOMMUNICATOR OF THE YEAR: Christie D'Ercole – for her professionalism and calm demeanor on Oct. 29, 2017, when a distraught woman called our Communications Center to report her mentally ill family member was shooting inside their home. Her actions saved the lives of the residents inside the home as well as law enforcement on scene, said Christina Gering of the Volusia County Crime Center. "That night she was the epitome of professionalism and a hero."
CIVILIAN EMPLOYEE OF THE YEAR: PIO Andrew Gant – for his work since he replaced longtime PIO Gary Davidson in mid-2017. "Andrew came in with a robust agenda. He has completely taken our Public Information Office to the next level," Chief Deputy John Creamer said. "Our social media is so active that other sheriff's agencies across the state and across the nation follow what we do. It's phenomenal."
CVAP VOLUNTEER OF THE YEAR: Theodore Wing – for going above and beyond to help fill in the gaps at the Sheriff's Office. "He's helped me tremendously, tracking all of this for all of 2017. He's very conscientious, he always shows up," said Cathy McCullough, analyst, Narcotics Division.
C.O.P. VOLUNTEER OF THE YEAR: Robert Nieland – for his great work ethic. "Bob epitomizes what the C.O.P. should be. The last hurricane we had, Bob took everything that was thrown at him . . . Anything we need of him, he's there," said John O'Brien, C.O.P. district director.
CITIZENSHIP AWARD: Keith Dean, executive director of the Florida Deputy Sheriffs Association; Louis Centrella, a Volusia County resident who has contributed $100,000 to the Sheriff's Office; John Hamlin; Samuel P. Royer; J. Brian Trese; former Sheriff Bob Vogel; the Volusia Sheriff's Youth Foundation; and the Volusia County Sheriff's Foundation.
MEDAL of VALOR: Deputy Shawn Adkins for his actions responding to a domestic disturbance call where the armed suspect pointed a shotgun at him; Deputy Brandon Ellis for his actions with K-9 Forest tracking a suspect who fled from an attempted traffic stop; Deputy Andrew Jenkins for his actions responding to a domestic disturbance call where a man fired a flare gun at him.
MEDAL OF BRAVERY/PURPLE HEART: Capt. Clifford Williams, who survived being stabbed several times while intervening off-duty in a domestic violence situation involving his neighbor and an estranged girlfriend.
MEDAL OF HEROISM: Deputy Kyle Walter for his actions rescuing a woman involved in a domestic disturbance call where the armed suspect pointed a shotgun at a fellow deputy.
MEDAL OF LIFESAVING ACTIONS: Deputy Christopher J. Beatty for responding to a flag-down, performing CPR and reviving a vehicle passenger who had a medical emergency; Deputy Anthony Bernal for performing CPR and reviving a woman experiencing a medical episode.
MEDAL OF MERIT for their roles in a sting operation targeting unlicensed contractors operating in Volusia County: Sgt. Jimmy Carlisle; Sgt. Joel Hernandez; Sgt. David King; Detective Matthew Andracke; Detective David Clay; Detective John Frazzini; Detective Amy Genao; Detective Robert Leffler; Detective William Mather; Detective Jordan McDaniel; Detective Austin Raimundo; Detective Toby Schwartz; Detective Nicholas Shephard; Detective Vincenzo Vento; Deputy Peter Carelli; Deputy Andrew Davis; Detective Andrew Jenkins; Deputy Michael Sawicki; Deputy Brandon G. Watson; Deputy Anthony Zimmerer.
MEDAL OF MERIT for their instrumental role in the expedited deployment and automation of the initial Volusia County Sheriff's Office CompStat process: Chance Bembinster and Patrick Harding.
MEDAL OF MERIT: Michael Todd Sennholtz, for his significant contribution in the advancement of the Volusia County Sheriff's Office technology: an online search warrant system, various automated body-worn camera processes, a budget tracking system and enhanced graphics to represent the entire agency.
COMMUNITY SERVICE AWARD: Capt. Richard Fortin, for his work acquiring, repairing and delivering restored bicycles to children who need them.
COMMUNITY SERVICE AWARD for their work in the VCSO's 2017 Pedestrian and Bicycle Safety campaign in the Deltona area, funded by a University of South Florida grant to the Florida Department of Transportation: Capt. Richard Fortin, Lt. Thomas Tatum; Sgt. Steven Bryan; Sgt. Joseph W. Frost; Sgt. Joel Hernandez; Sgt. Joel Turney; Senior Deputy Patrick W. Allison; Senior Deputy Dennis Dearborn; Senior Deputy Persio Genao; Senior Deputy Christopher LeCates; Senior Deputy Jose Ramos; Senior Deputy Nicholas Yackel; Senior Deputy Anthony Zimmerer; Deputy Omar Bello; Deputy Martin Fletcher; Deputy Graeme Foster; Deputy Matthew A. Myers; Deputy Matthew Seltzer; Deputy Jimmie Stone; Deputy Timothy Wheeler; Tina McClish
UNIT COMMENDATION for their response to a shooting incident in DeLand, where deputies carried the victim to safety, took the shooter into custody and safely removed the remaining occupants of the residence, which included two children: Sgt. Jason Stickels; Deputy Steven Eisen; Deputy Blaine E. Lewis; Deputy Sean McRae; Deputy Patrick Omelia; Deputy Michael R. Vanzo; Deputy Brandon G. Watson
TELECOMMUNICATOR LIFE SAVING AWARD for all those who saved a life by providing CPR instructions to emergency callers: Caitlyn Best; Kristy Lynn Champeon; Breanna Eckman; Christina Gering; Greg Goff; Staci Latoya Green; Katie Elaine Hall; Dallas M. Hull; Keith Laconia Hutchinson; Meghan Kelly; Tracy Koehler; Katrina M. Lilly; Marima Perez; Caryn Price; Debra Lynn Rego; Rebecca Stump; Tracey Jeanenne Warhurst; Jessica Woodworth.
Congratulations to all of those honored for pouring your hearts and work into saving lives and supporting the Volusia County Sheriff's Office!