Deputy Justin Ferrari of the Volusia County Sheriff's Office Honored as the 2017 Florida Sheriffs Association's Law Enforcement Officer of the Year
Date Added: July 31, 2017 1:34 pm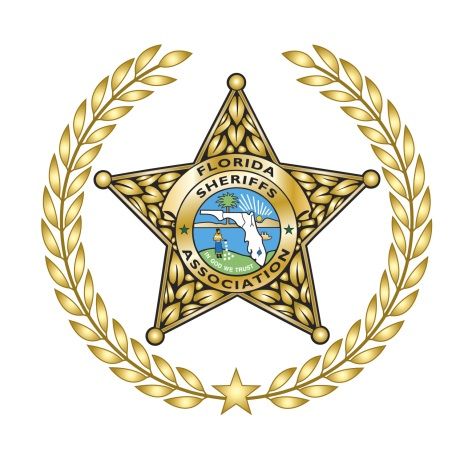 For more information:
Nanette Schimpf, APR, CPRC
Public Relations Counsel
850-224-0174 - work
850-528-2639 - cell

For Immediate Release
Deputy Justin Ferrari of the Volusia County Sheriff's Office Honored as the 2017 Florida Sheriffs Association's Law Enforcement Officer of the Year
Tallahassee, Fla. (July 25, 2017) – Today, the Florida Sheriffs Association (FSA) is proud to announce that Deputy Justin Ferrari of the Volusia County Sheriff's Office has been selected as the 2017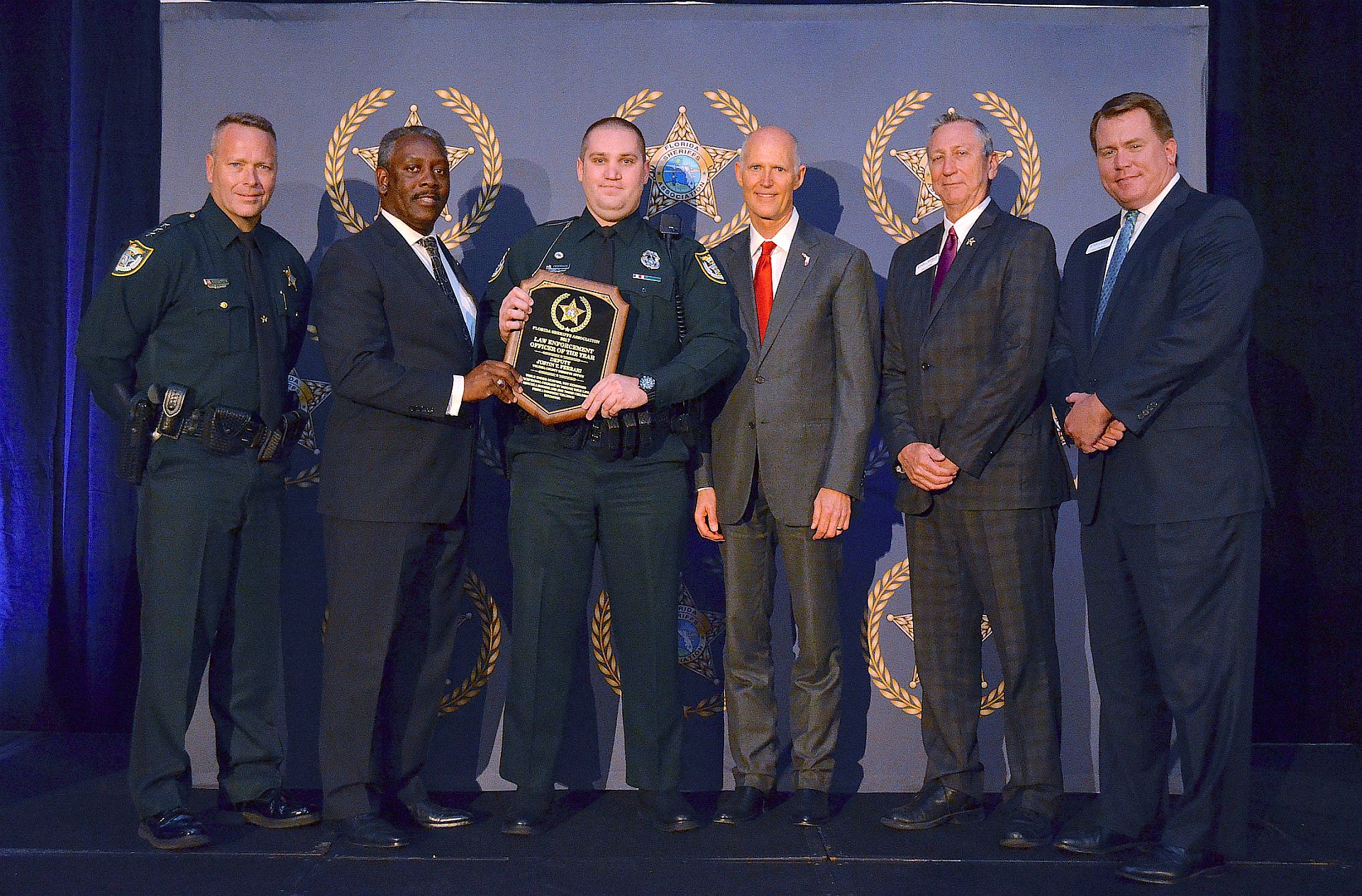 Law Enforcement Officer of the Year. Ferrari's outstanding courage is evident in a video captured by his body camera as he responded to a call in July 2016.
That fateful day, Ferrari and other deputies responded to a domestic disturbance call from Victoria Rosado, 26, after her husband opened fire inside the home they shared, shooting her in the leg. The young mother was inside with her three children, ranging in age from 23 months to 7 years old.
Deputy Ferrari did not hesitate and acted swiftly once he arrived at the scene, getting Victoria and her three kids to safety. A dramatic video, captured by his body camera, shows how Ferrari bravely ran towards Victoria, who was able to make it out of the house despite her injuries.
After getting Victoria to a neighbor's home, Ferrari then rushed to help the three children as they ran crying out of the house. Once the three children and their mother were safe, Ferrari proceeded to check on his fellow officers before they arrested Emmanuel, who walked out a back door of the home and surrendered to authorities.
In reflecting on the situation, Deputy Ferrari said, "They tell you to resort to your training, which is true but, this was completely instinctual. I never would have thought that's how I would have reacted prior to it happening. You just never know until it happens."
"When we say law enforcement officers run toward danger as others run away, this is exactly the type of situation we are talking about," said Volusia County Sheriff Mike Chitwood. "The deputies who responded to the shooting incident in Deltona didn't hesitate; their instincts and training kicked in. Deputy Justin Ferrari represents what we all in law enforcement stand for: honor, integrity, service and courage."
"The sacrifices these men and women make daily go beyond what most people would ever do," said FSA President and Orange County Sheriff Jerry Demings. "When I hear about deputies facing these situations with courage, I feel honored to be serving alongside them."
Steve Casey, executive director of the Florida Sheriffs Association, said, "Our deputies are the best men and women in their profession. When we have deputies confronting these types of situations the way Deputy Ferrari did, and apply what they are taught in training, it's a testament to the fact that Florida's sheriffs set the bar for the nation."
Deputy Justin Ferrari is one of the many who are willing to put their life on the line for others when the situation calls for it. During the annual summer conference banquet, Ferrari was given a standing ovation from the 250-plus law enforcement attendees and their supporters. The Florida Sheriffs Association Law Enforcement Officer of the Year Award is proudly sponsored by Star & Shield Insurance. Allen Durham, president and CEO of Star & Shield Insurance, said: "Deputy Ferrari is a terrific example of the outstanding law enforcement officers who serve the citizens of the state of Florida. We are greatly appreciative to Deputy Ferrari for his incredible actions and to the Florida Sheriffs Association for honoring him as their 2017 Law Enforcement Officer of the Year."
For more information on Deputy Ferrari's heroic actions, check out his spotlight video here:
# # #
Florida Sheriffs Association
The Florida Sheriffs Association is a not-for-profit 501(c) 3 corporation made up of the 67 Sheriffs of Florida, approximately 3,500 business leaders and 100,000 citizens throughout the state. Founded in 1893, FSA has steadfastly served the citizens of Florida by supporting the needs of the state's law enforcement community. Through the Florida Sheriffs Association, Sheriffs are given a forum to address lawmakers to push for positive changes in Florida's public safety arena. FSA also provides Sheriffs' Offices much-needed programs such as affordable training, special task forces and legislative and legal services. Dedicated to the prevention of juvenile delinquency and the development of lawful, productive citizens, FSA has established and funded the Florida Sheriffs Youth Ranches with facilities throughout the state to help restore hope, fulfill dreams, and prepare boys and girls for the future. It has grown to be one of the largest and most successful state law enforcement associations in the nation. For more information on the Florida Sheriffs Association, visit www.flsheriffs.org.