Emergency Notification System Info
Sign up for our emergency notification system!
Everbridge Notification System: If you have a cell phone or unlisted telephone number, you aren't in our database! The only way to get notifications about emergencies in your area would be to "opt-in" to the free service. Any information furnished for the purpose of emergency notification is exempt from public records requirement.
You can also download the Everbridge Public Safety app (free in the iOS, Android and Windows app stores). This app will allow you to see public notifications issued through the Everbridge system across Volusia County, Florida, and the entire U.S.
This system provides the following:
Emergency notification regarding situations that may be occurring around your home/location.
Information about said calls, over the phone, with information to keep you and your family safe.
Boil water alerts, missing/endangered person information, and dangerous situations near you.
A very valuable resource for your family and the community.
Florida 511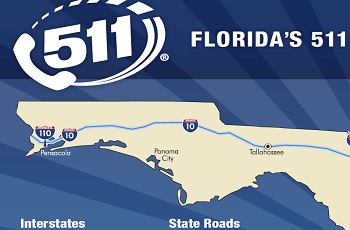 Florida's 511 Traveler Information System is one of the most effective ways drivers can keep informed about roadway conditions during severe weather, evacuations and emergencies.
When hurricanes, severe weather, wildfires and other emergencies threaten Florida, a free phone call to 511 provides evacuation and emergency travel information. Callers will get important information regarding affected counties, cities, roadways and agencies.
511 is a valuable tool providing real-time, locally generated reports regarding:
Major evacuation routes, road and bridge closures and toll suspensions
AMBER, Silver and LEO alerts
Traffic information on interstates; toll roads; and many other major roadways
Traffic cameras and personalized services